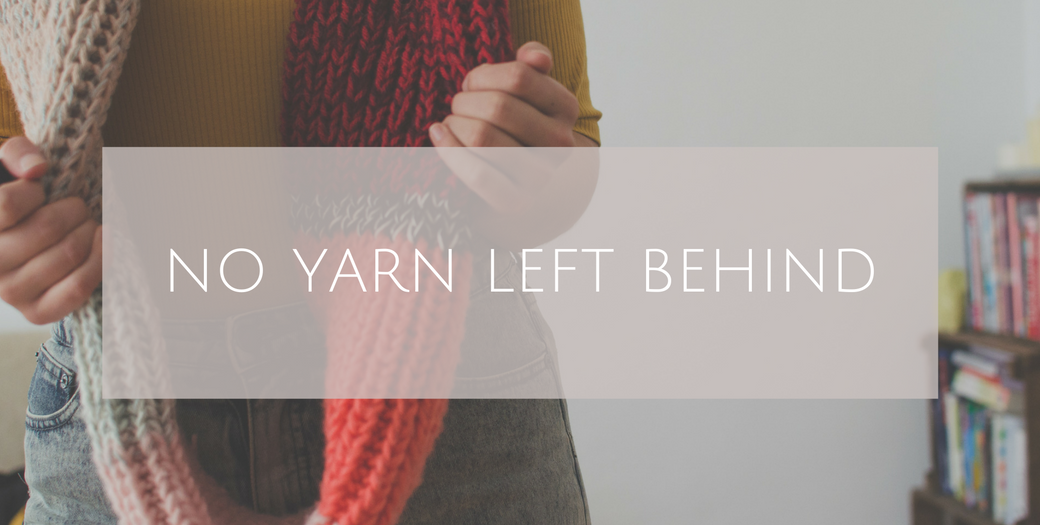 Maybe – ok, definitely not maybe – I mentioned it before: I'm a wool addict. And a wool hoarder. I have drawers full of wool – all kinds of wool in every storage space I have. In my wardrobe, in the living room sideboard, in the drawers under my bed. Most of the yarn balls are there for a certain purpose: I already have something in mind for them and know for which project I'm going to use them. But for some of them it's a bit different. They are leftovers of already finished knitting projects,  or I only bought them because they were so pretty. So, what is supposed to happen to them, especially the leftovers? Throwing them away? No way (as I already mentioned, I'm a wool hoarder and hoarders don't throw stuff away, do they?!)! Using them for smaller projects? Well, most of the small projects require more than a tiny piece of leftover, too. 
Fortunately, there ARE plenty of ideas how to make use of leftovers. They can be turned into blankets, colorful beanies, pillow covers and scarves. For my recent leftover project, I decided I could use another loop scarf. Said, done, here it is: A leftover scarf, knit in fluffy fisherman's rib stitch. Yum! 
Luckily, I had quite a lot leftover yarn balls in kind of matching colors. I tried to make kind of a gradient from light to darker colors and back: I started with soft white, gray and rose colors and then continued with some salmon, burgundy and darker shades of gray. Ok, not really a gradient, but I'm still really happy how it turned out. And it's soooo fluffy! Fisherman's rib is awesome.
Fisherman's Rib – Fluffy brioche
For this scarf, I used up 16 different leftovers. Hard to say how much wool exactly in the end. The finished scarf is 1,80m // 5.9 ft long and this is how it looks like. Scroll down to read the instructions! And of course, I'm curious: What are your favorite ways to use up leftover yarn??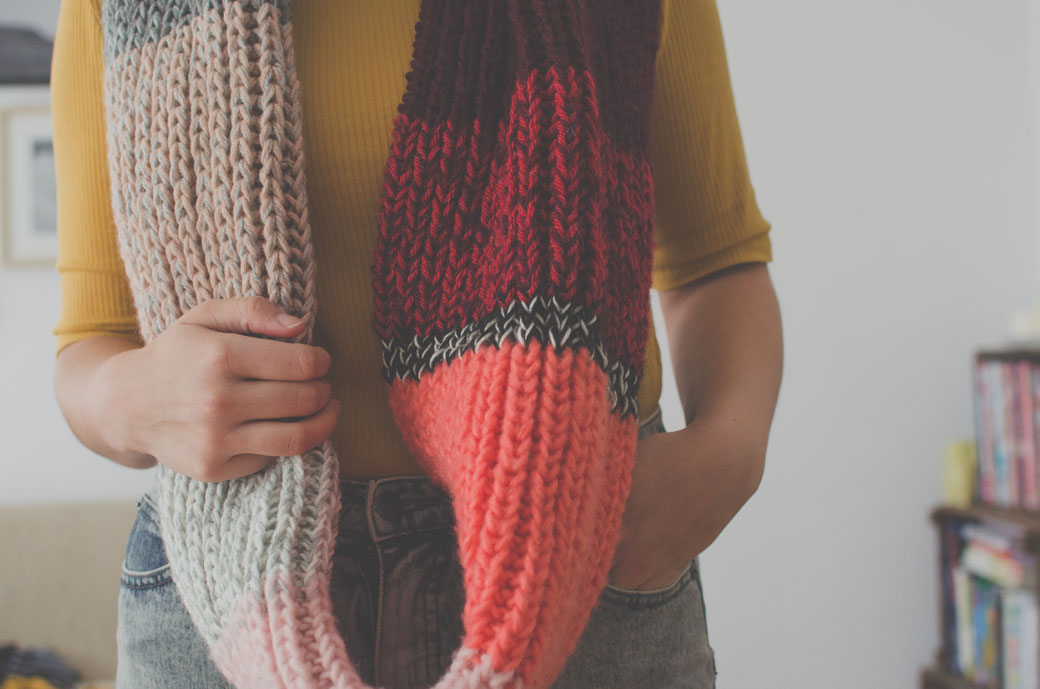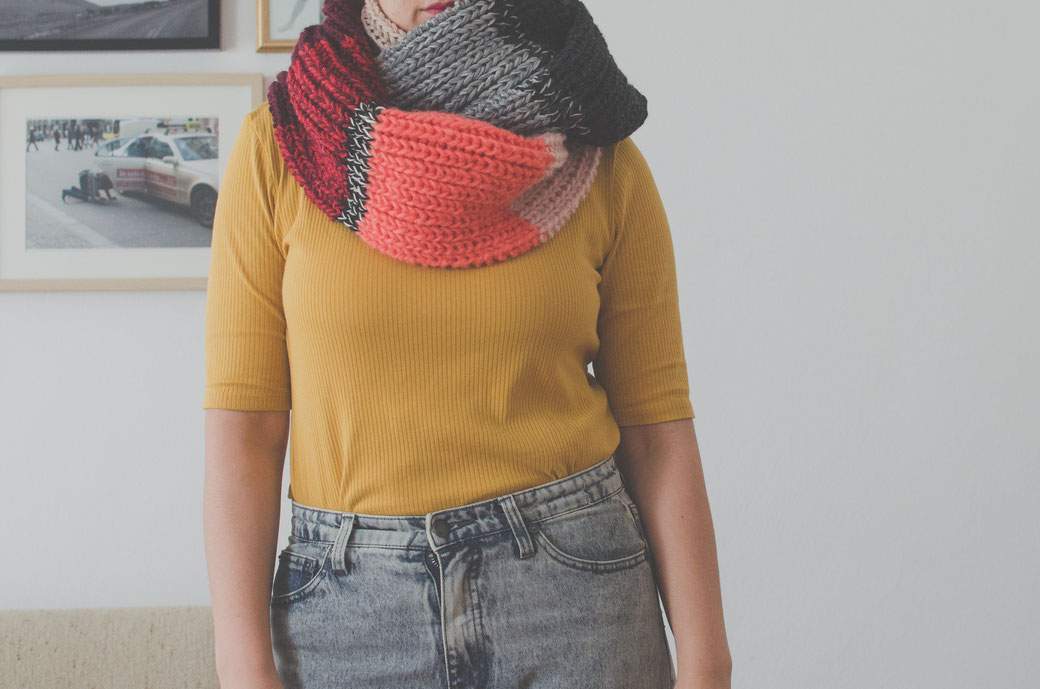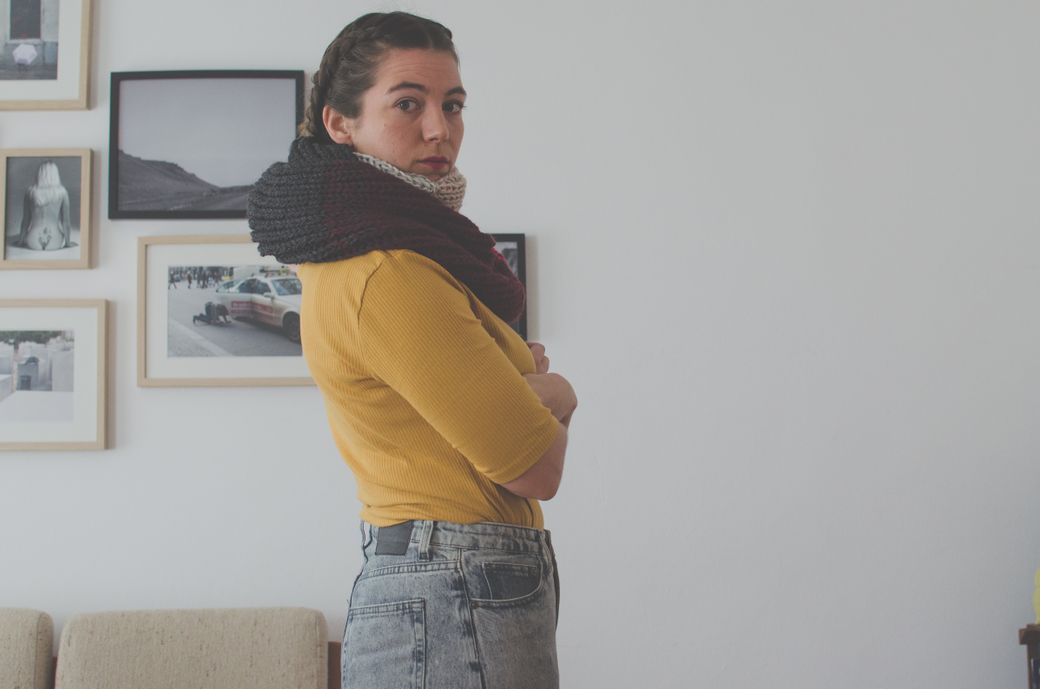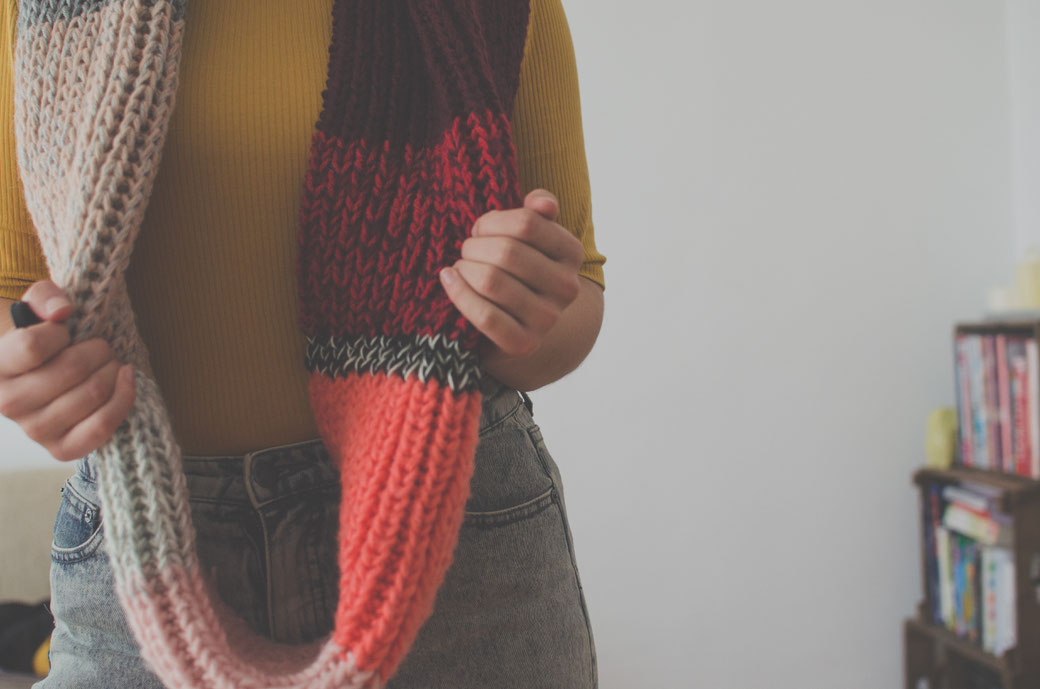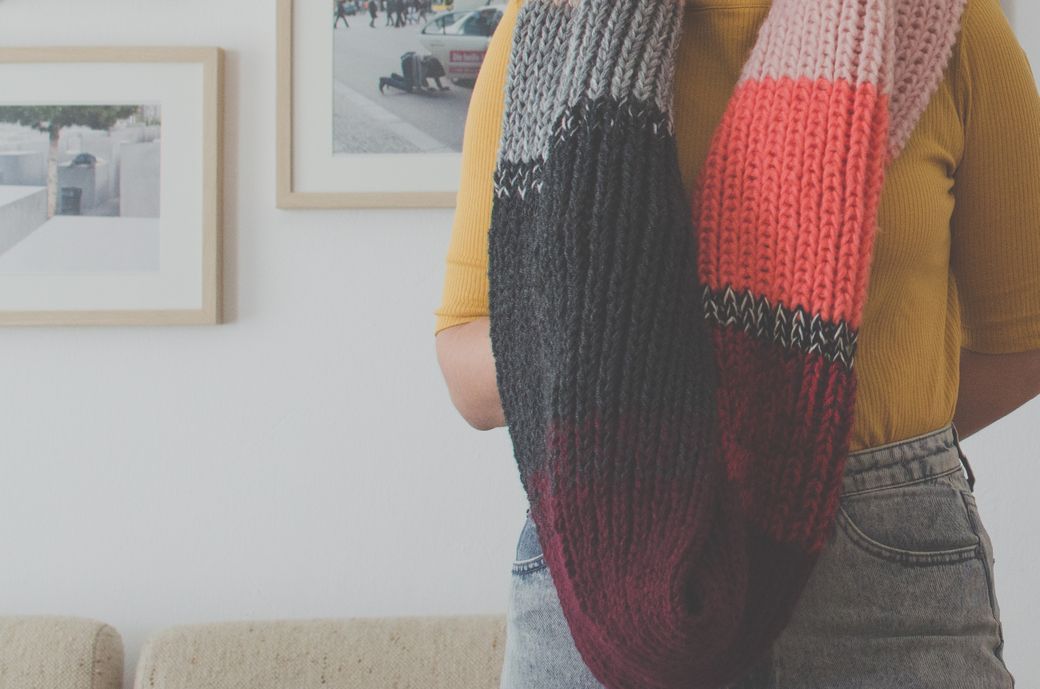 knitting your own fisherman's scarf
I'm knitting the fisherman's rib stitch over an uneven number of stitches. For this loop I cast on 41 stitches and it turned out pretty big: almost 40cm / 15'' in width. 
Abbreviations and How-to
St = Stitches
Knit one below (K1b): When knitting one below, you don't pick up the stitch that's on the needle, but you insert your knitting needle in the stitch that is directly below. Sounds and feels weird when trying it for the first time, but is perfectly safe and looks great in the end! Purl Soho provides a perfect video tutorial for the technique:
Row 1
This is a setup row. You knit this first row like a "normal" rib stitch: *K1 P1* - Repeat sequence between * until you get to the last stitch, knit the last stitch.
Row 2
K1, *K1b, P1* - Repeat sequence between *, until you reach the last two stitches, K1b, K1
Row 3
K1, *P1, K1b*, Repeat sequence between * until you reach the last two stitches, P1 K1.
Repeat rows 2 and 3 until the scarf has reached your desired length, then cast off all stitches.
Sew the ends together and weave in all the loose ends.
Done, yay! Enjoy wearing your Fisherman's scarf! 
---