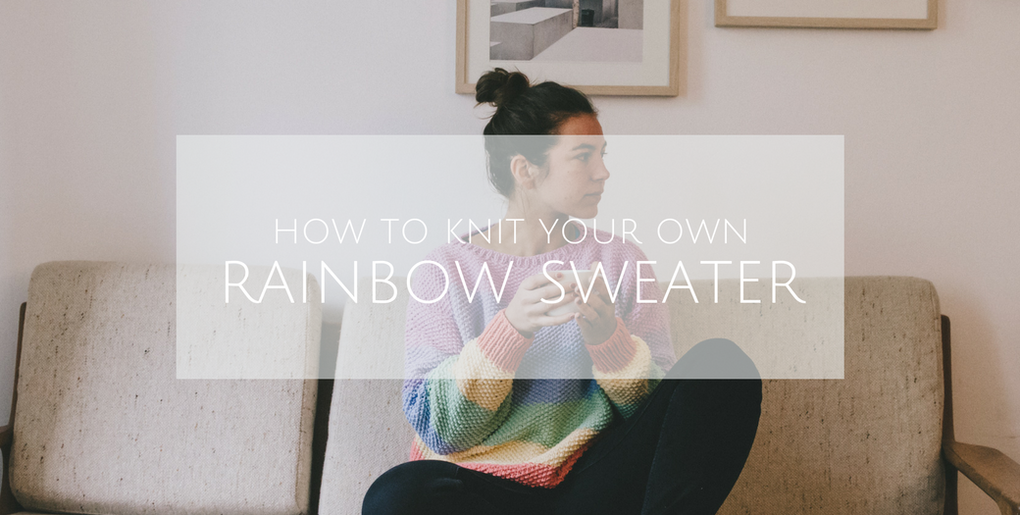 I'm still totally blown away by all the lovely comments I got on Instagram (and in real life) for this sweater. This rainbow sweater that actually looks like it was made for one of the Care Bears. Or a unicorn. Anyway, it's really comfortable and cozy and makes your day a bit brighter and definitely more colorful. I can only recommend making one for yourself: Everybody starts to smile when they see this sweater – because who can say no to a rainbow?! I certainly can't.
Oh and just one quick note: As this is my very first knitting pattern, I'd be more than happy to hear if it works for you guys or if there's something I could improve. I am looking forward to all your feedback, suggestions and comments! 
Read on for the English instructions. If you're looking for the German version of the rainbow sweater pattern, click here.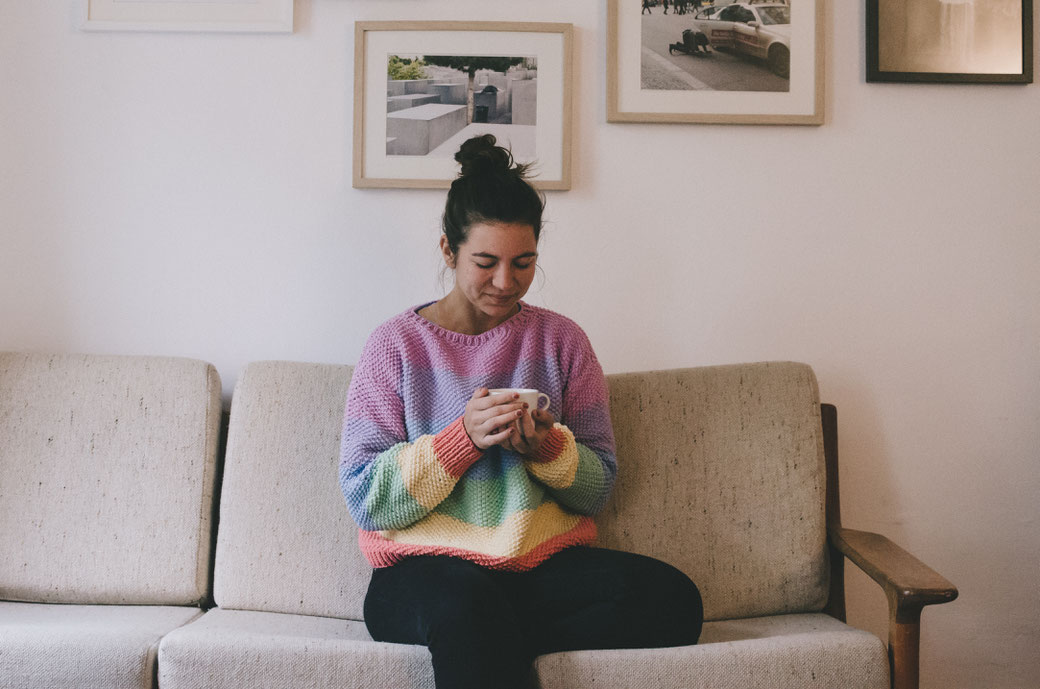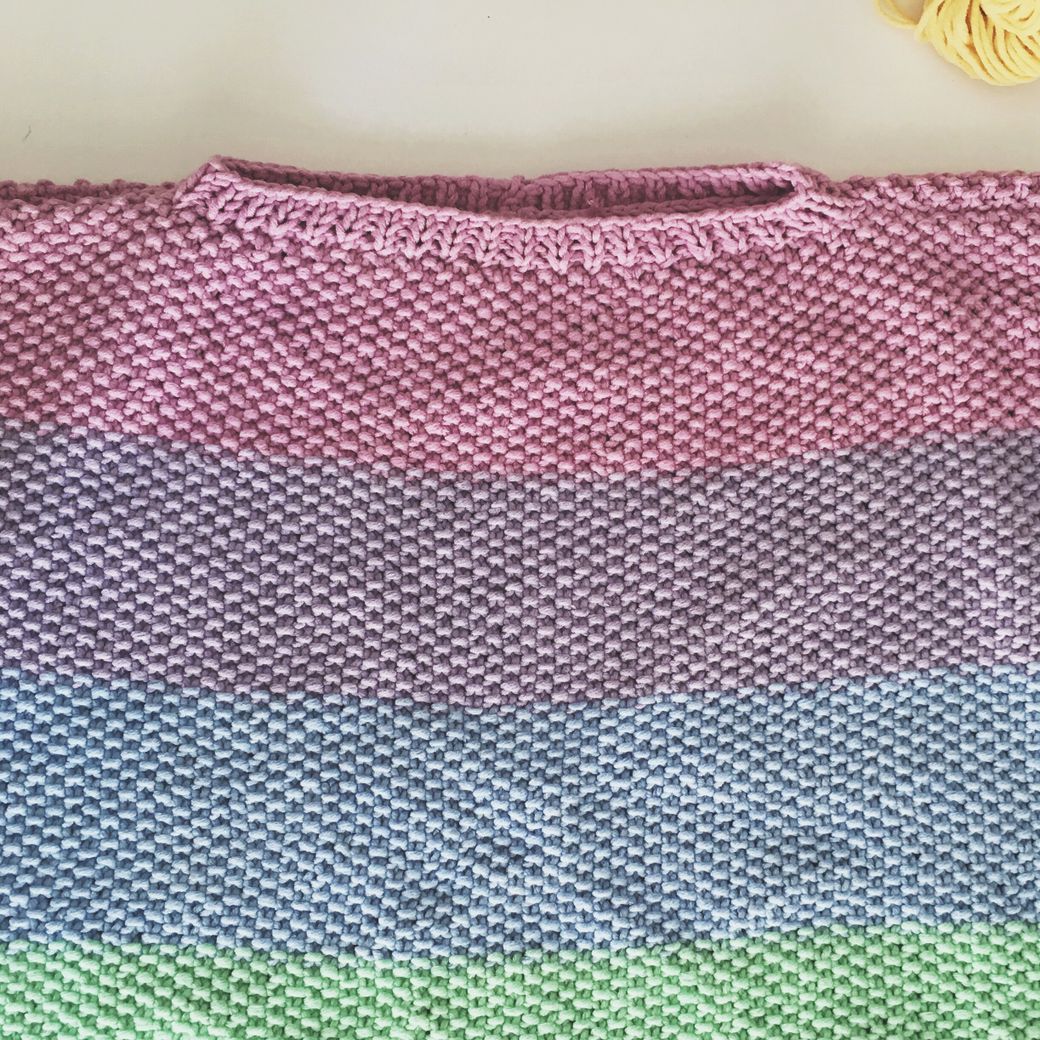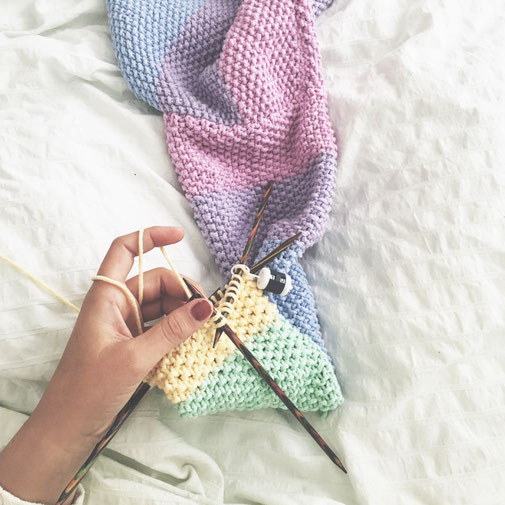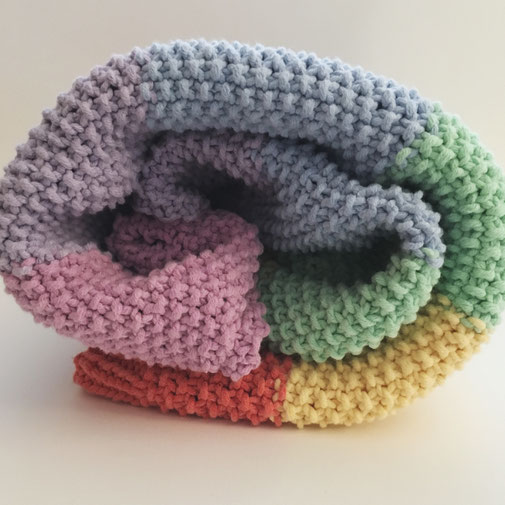 knitting pattern – rainbow sweater
---
Wool & Tools
The wool I used:  Buttinette Lisa, a soft and light cotton acrylic mix (usually, I'm not a big fan of synthetic fibers, but I just fell in love with the colors and hey, according to the producer you can mashine-wash it…).
6 colors: koralle (coral), hellgelb (light yellow), mint, aqua, flieder (lilac), rose – 3 skeins of each color
If you prefer using something non-synthetic: Recently, I discovered this beautiful yarn – Lana Grossa Organico, which is 100% soft cotton and also comes in very pretty colors.
Knitting needles: 5mm (US 8) und 4.5mm (US 7) 
I used circular needles for the back and front and double pointed needles for sleeves and collar. 
Instructions
Please read the whole thing before you start – it's not a complicated pattern, but still really helpful to know in advance what you have to do at what point. Besides the color changes, we also have some decreases :)
Sizes, Stitches, Abbreviations
St: Stitches
R: Rows
K: knit
P: purl
Rib stitch:
Row 1: K1 P1
Row 2: Knit the stitches as the appear: knit the knits and purl the purls
Repeat those two rows
Moss stitch:
Row 1: K1 P1
Row 2: Knit the purls and purl the knits
Repeat those two rows
Gauge
Moss stitch: 10x10cm (3.9 inches) = 14St x 24R
Rib stitch: 10x10cm (3.9 inches) = 22St x 17R
Size: When it comes to sweaters, I'm a size 38 (US size 6) and this sweater is a bit oversized, so that it should also be wearable with one size smaller or bigger. My finished sweater is 54cm (21.2 inches) long and measures 54cm max. in width.
Back
We start at the lower end of the sweater: so grab your red (coral) yarn

Cast on 90 St in coral with your 4.5mm (US 7) needles
Knit in rib stitch for 8 rows (app. 4cm or 1.5 in)
Switch to 5mm (US 8) needles
Continue in moss stitch. The first row knitting moss stitch is a decrease row: Spread over the row, knit 10x2 stitches together. You have 80 stitches left on your needles.
Continue in moss stitch until the first color block is 9cm (3.5 in).
Switch to your second color – light yellow – and continue in moss stitch until the color block has also 9cm (3.5 in).
Continue in moss stitch and with the same length of your color blocks for the rest of the colors in the following order: after coral and light yellow continue with mint, aqua, lilac and rose.
When the back piece is 36cm (14.1 in) long (after the aqua blue color block), cast off 1 St on both sides 4x in every 3rd row – for the sleeves.
When the back is 54cm (21.2 in) long (after all six color blocks), cast off all the stitches.
Front
Knit like back until you have reached 50cm (19.6 in).

Cast off 36 stitches in the middle of your sweater (for the neck) and continue knitting separately each side.

For both sides: To complete the neckline, cast off 3x2 St on the inner side.

After the front is 54cm (21.2 in) long, cast off all stitches

The neckline now consists of the middle 48 stitches.
Collar
Use kitcheners stitch to graft together the shoulder seams. Leave the confronting 48 St of the neckline open

Pick up 76 St with 4.5mm (US 7) circular needles and knit 4r (app. 2cm or 0.8") in rib stitch

Bind off.
Sleeves
Graft together the side seams of the sweater leave the upper 18cm (7") open (lilac and rose color block) for the sleeves.

Pick up 52 St with 5mm (US 8) needles in rose and place a marker where the side seam meets the picked up stitches (you'll need that later for the decreases)

Knit in moss stitch and change to a new color after each color block is 8cm (3.1") long.

Make sure to use the reverse order for the color blocks.

Continue like that until the sleeve is 38cm (14.9") long.

After the 4th color block and before changing to the 5th (which is light yellow), change to 4.5mm (US 7) needles. In the light yellow block, decrease like that:

In every 2nd row, knit together the two stitches before and after your place marker. Make sure to continue in pattern.

Repeat 8 times (=over 16 r)

After 45cm (17.7") switch to your last color and continue in rib stitch until the sleeve is 50cm (19.6") long.

Cast off.

DONE! YAY!
have fun!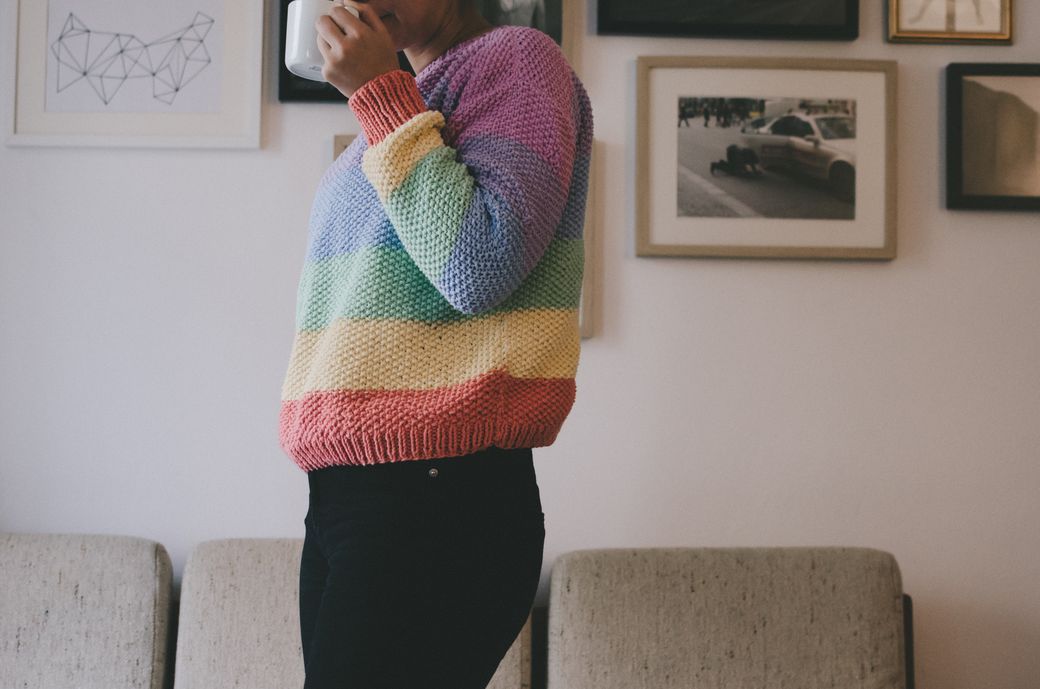 ---