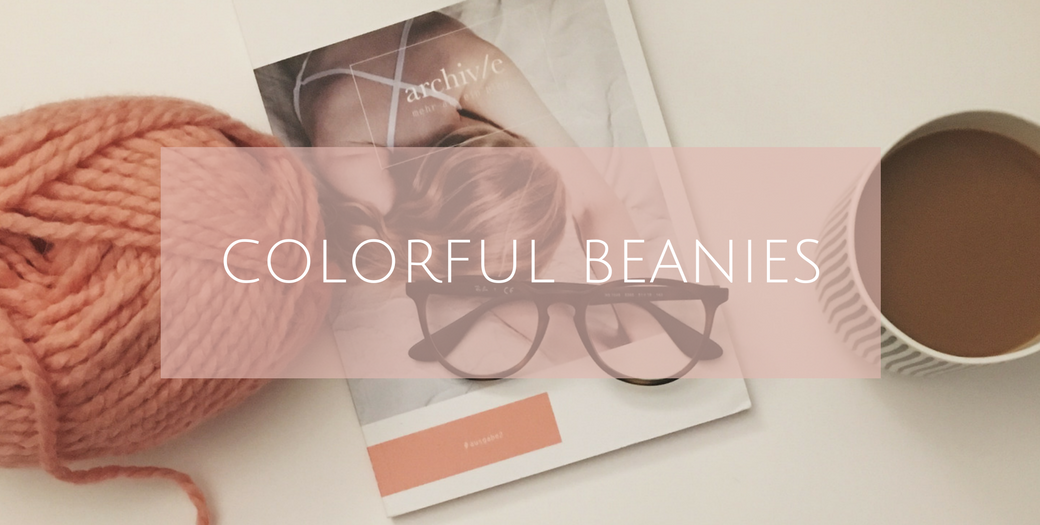 Actually, if I'm not wearing my Rainbow Sweater, I LOOOVE wearing all shades of gray, black, navy, burgundy… yep, you get an idea. Rather simple than bright and colorful. A popular exception: Beanies, scarves and headbands. This "Tricolori" beanie is one of these colorful examples. Blue, salmon and yellow in one single piece of garment. Well, accessory. The color combination reminds me a bit of the colorful 70s, it's a bit quirky, but not too much. Could look nice with ski onesie, though :) And here comes the best: It's a super easy and quick knitting project aaand I've got the free tutorial for you. 
All you need
Three balls of this chunky creative twist yarn in yellow, salmon and azur – or a yarn with similar gauge
A set of double pointed needles, size 8mm (US size 11) 
One long and relaxed evening of your time – depending on how fast you knit, this beanie takes 4-6 hours
Optional, but awesome: a pompom maker
These three balls of yarn make three beanies (two in adult size as indicated in this tutorial, and there's still yarn left for a smaller, third beanie one or an adult-sized headband)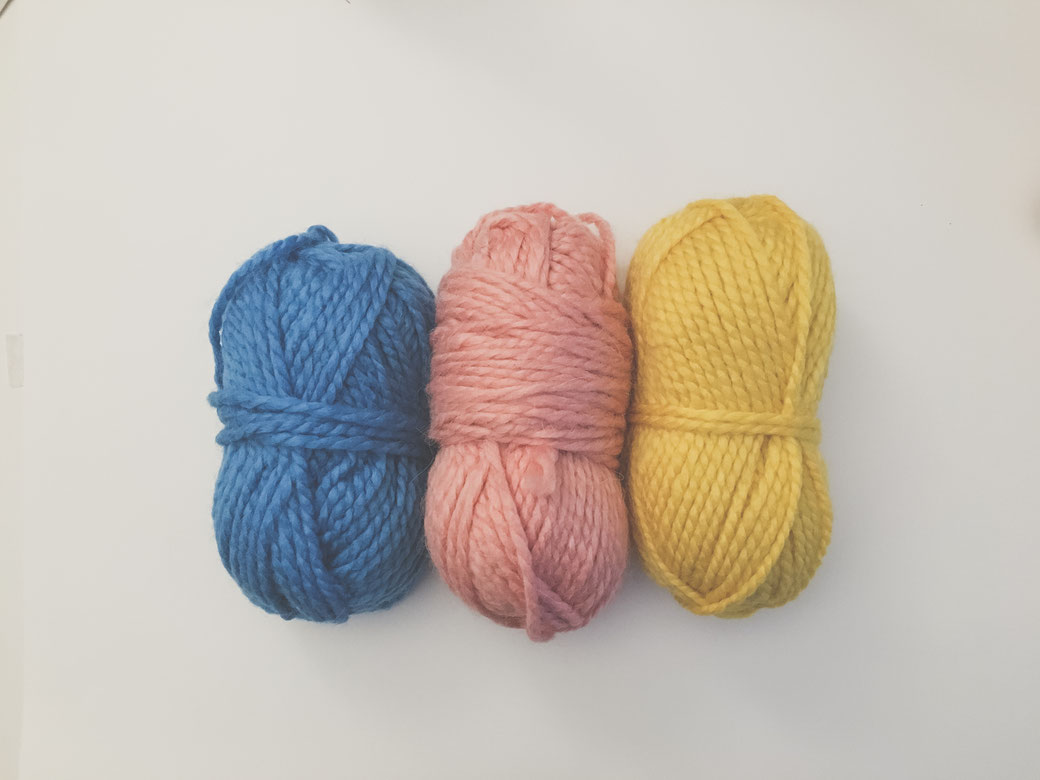 Patterns and Abbreviations
Abbreviations:
P = Purl
K = Knit
K2tog = Knit two together
Rib Stitch: K1 P1 throughout the entire round. The next round, you knit the knits and purl the purls
Basic Pattern: Knit all stitches in every round
Gauge Rib Stitch: 12M x 13R = 10 x 10cm // 3.9" x 3.9"
Gauge Basic Pattern: 9M x 13R = 10 x 10cm // 3.9" x 3.9"
Size (One size fits most): 45 cm circumference without stretching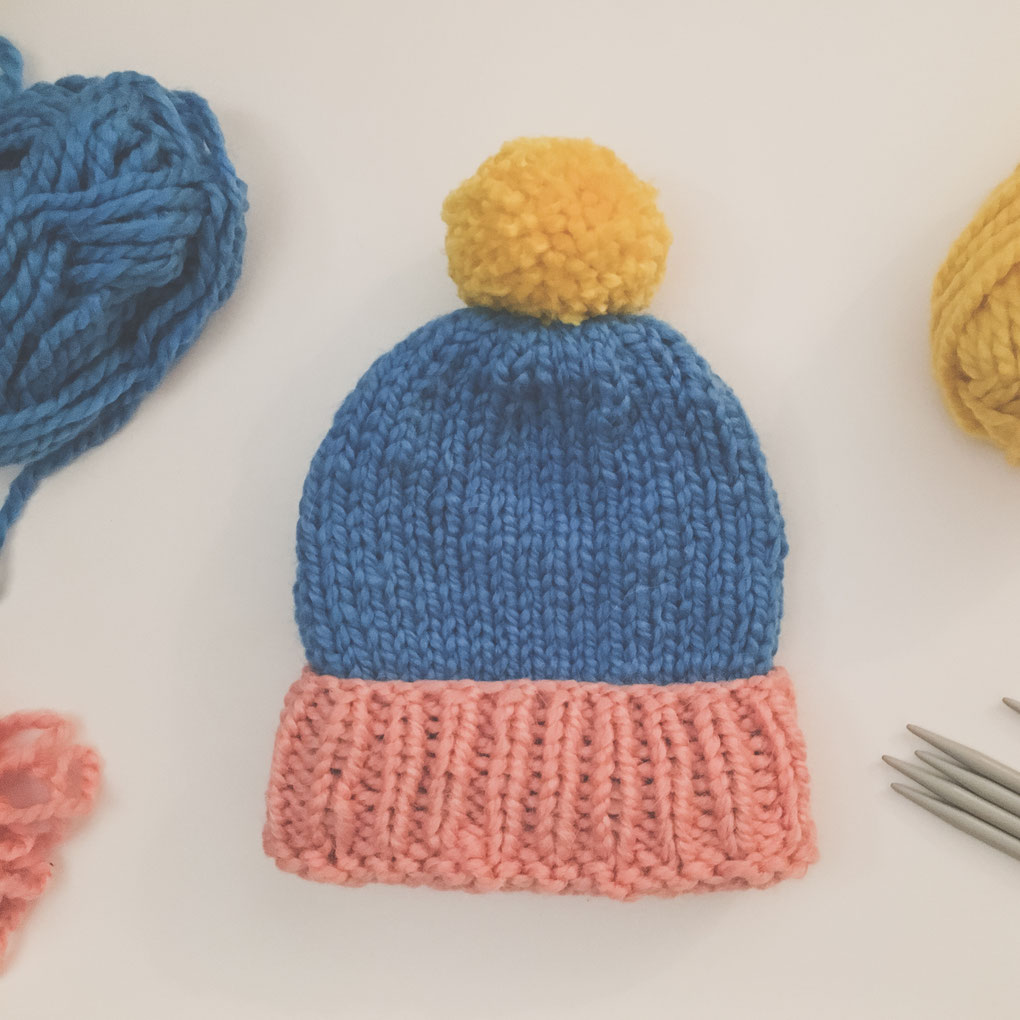 knitting pattern beanie
First things first: Choice of colors! Which color do you want to have for the rib fold, the main part and the pompom of the beanie? I made two beanies, the first starts with salmon, followed by azur blue and topped with a yellow pompom. For the second beanie, I just switched salmon and blue
With your double pointed needles, cast on 40 stitches (10 per needle) in the color you'd like to use for the fold and join in the round
Knit in rib stitch for about 7cm // 2.7" – approximately 10 rounds
Now we switch to knitting in basic pattern – still in the first color for another 3 rounds. If you change the color already here, you'd see the color change later (and I prefer not to)

Knit the first of these three rounds as follows:
First needle: K4, K2tog, K4
Repeat with needles 2-4
At the end of this round, you have 9 stitches left on each needle – 36 stitches overall
The second and third round: Simply knit all stitches

Now switch to your second color and continue knitting in basic pattern until your work measures 29cm // 11.4" in length. 
First decrease round on the top of the beanie:

First needle: K2, K2tog, K2, K2tog, K1
Repeat with needles 2-4
At the end of the decrease round, you have 7 stitches left on each needle 

Continue in basic pattern for two rounds
Second decrease round:

First needle: K1, K2tog, K1, K2tog, K1
Repeat on needles 2-4
At the end of the 2nd decrease round, you have 5 stitches left on each needle

Knit one round in basic pattern
Third decrease round:

First needle: K2tog, K1, K2tog
Repeat for needles 2-4

Cut the yarn, leaving an app. 25cm // 10" tail and, using a darning needle, carefully pull the thread through the remaining stitches on the needles
Then remove the needles and pull tight so that the hole at the top of the beanie disappears
Pull the thread inside and sew it up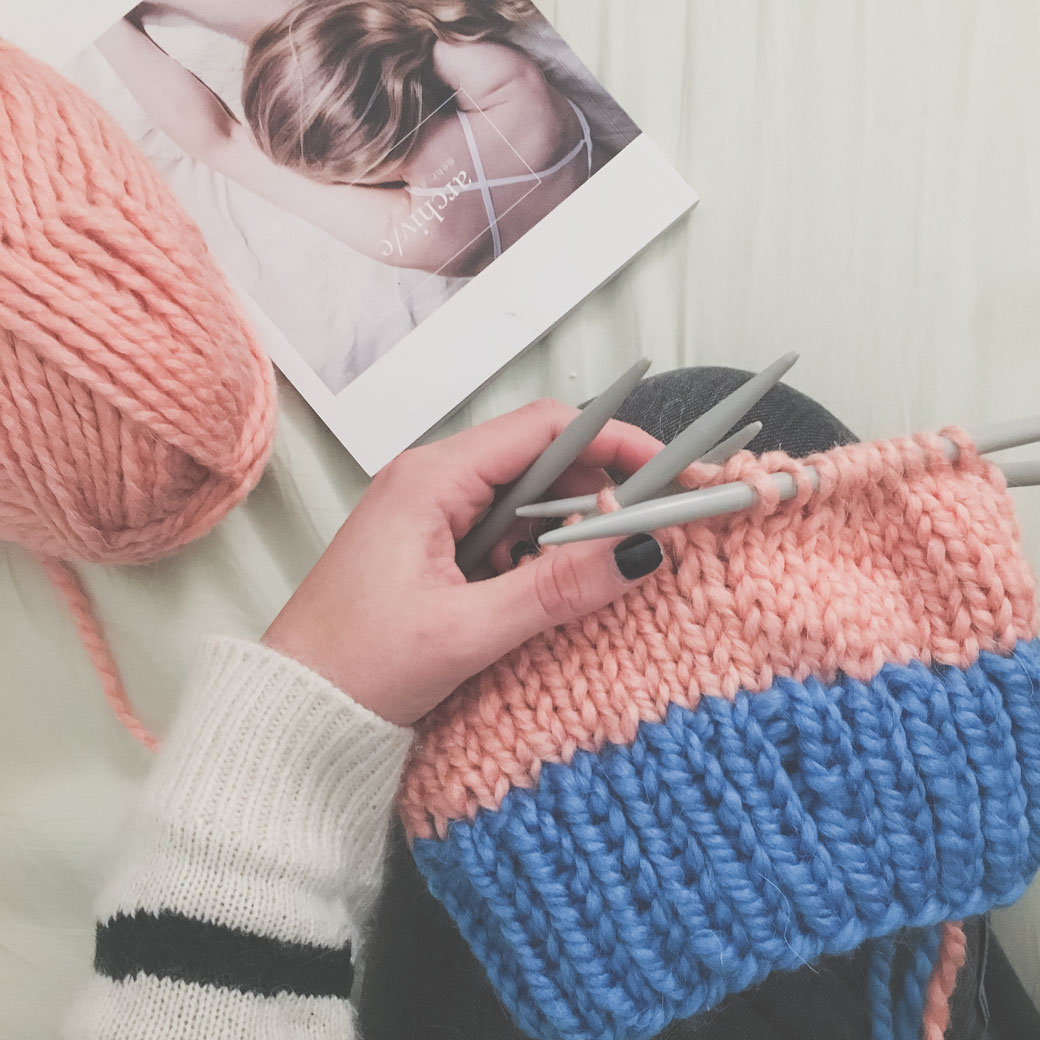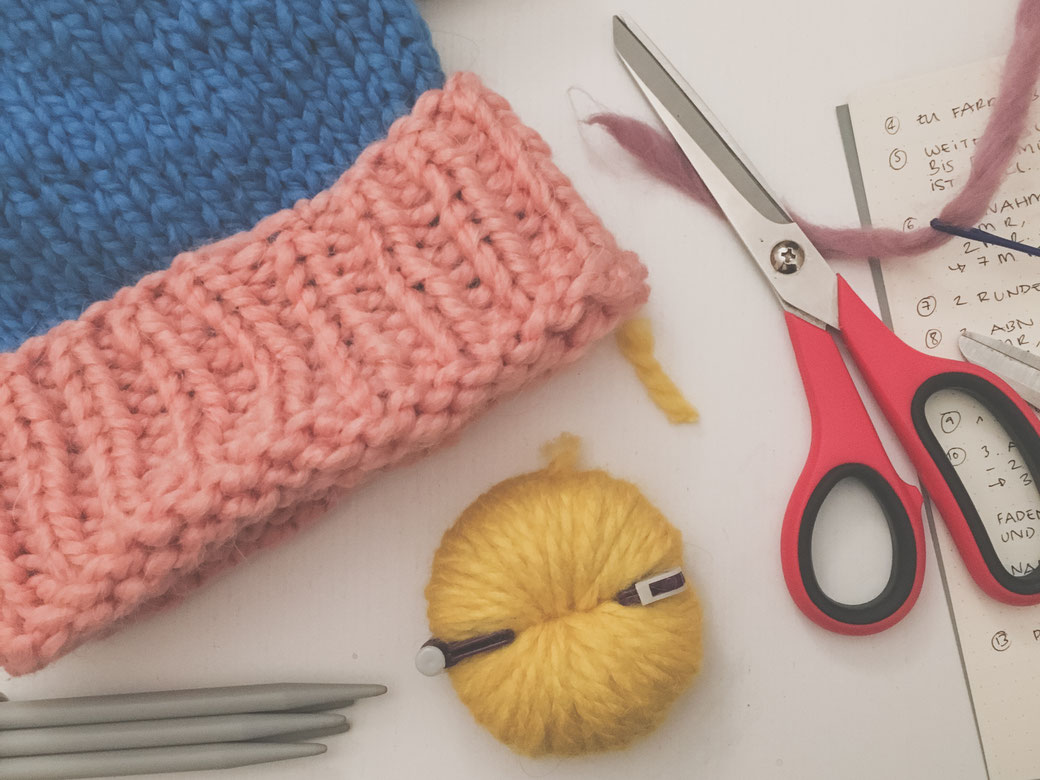 Pompom and finish!
Make a pompom. If you've never made one and don't have a pompom maker, no worries – here's a nice tutorial!
Leave app. a 20cm thread tail and sew the pompom to the top of the beanie.
Ta-daaaa! Here's your brand new tricolori beanie! 
I'm already thinking about new color combinations and looking forward to making more of these bright and cute beanies! Or maybe also a white-grey-black version? Hmmmm… Which would be your favorite color choice? 
Hope you guys have fun making your own version! :)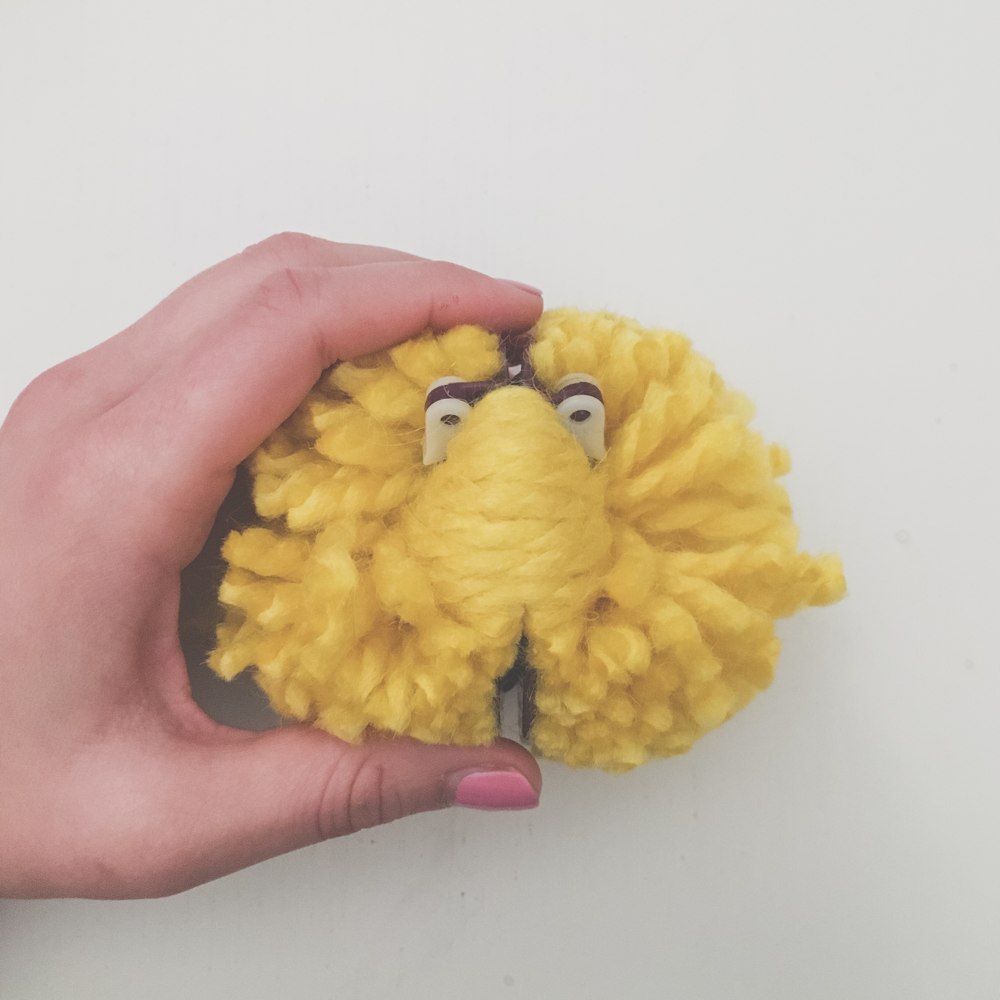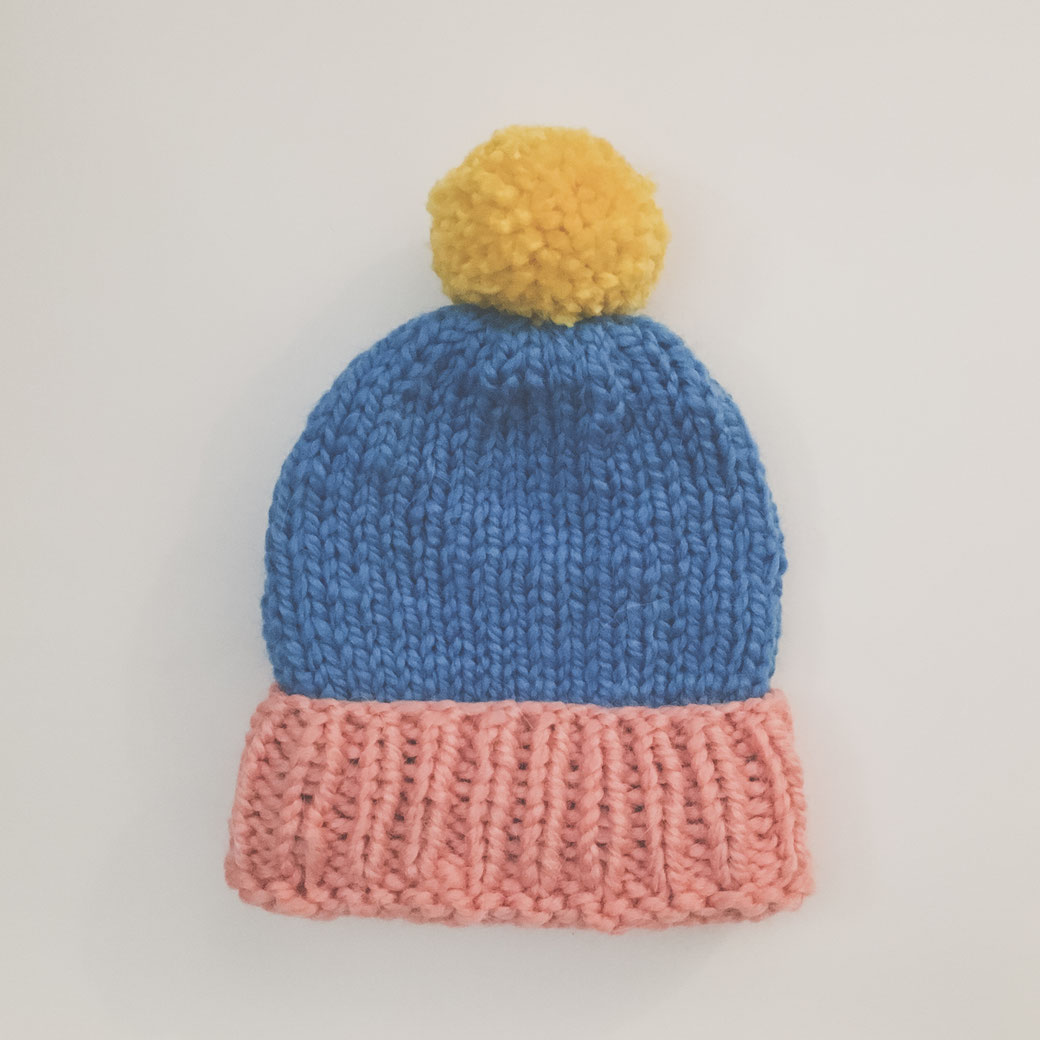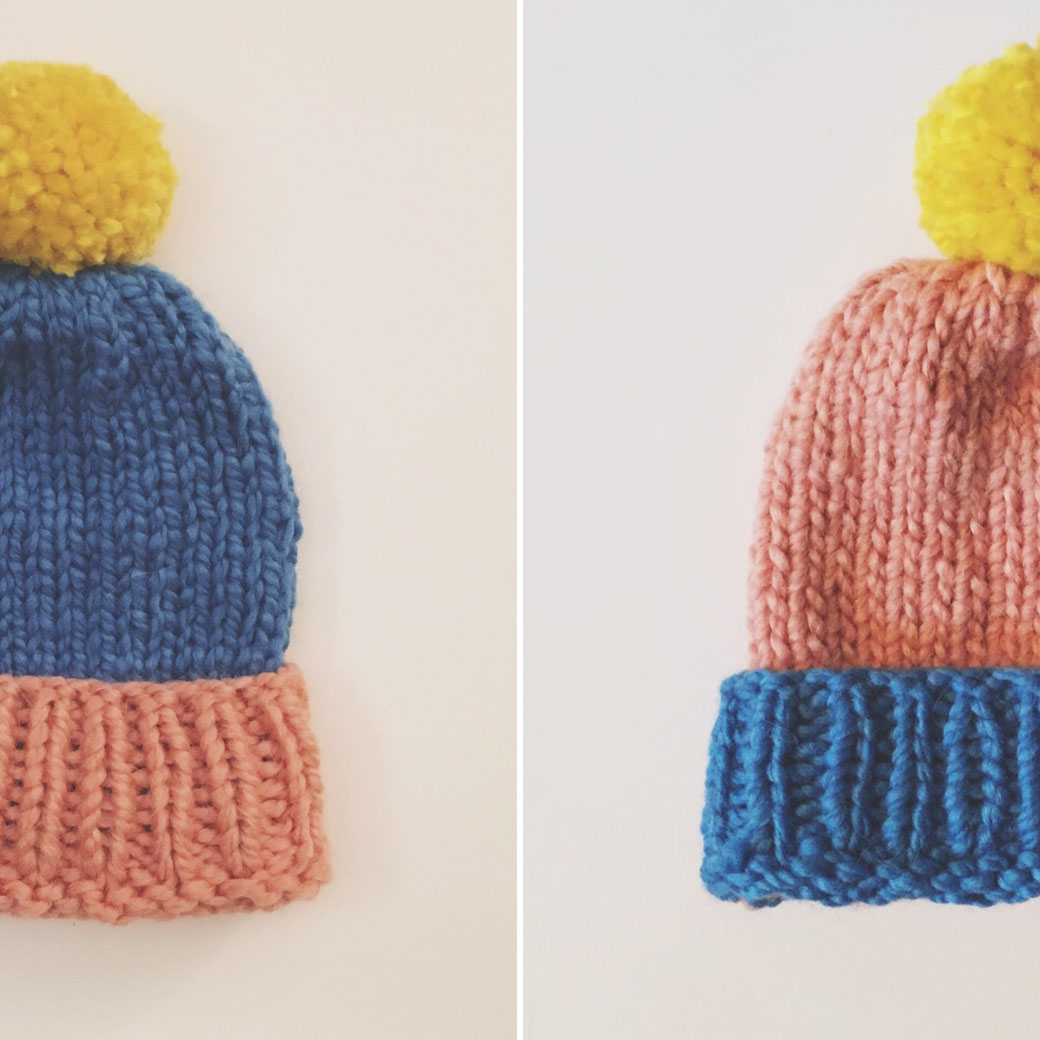 ---